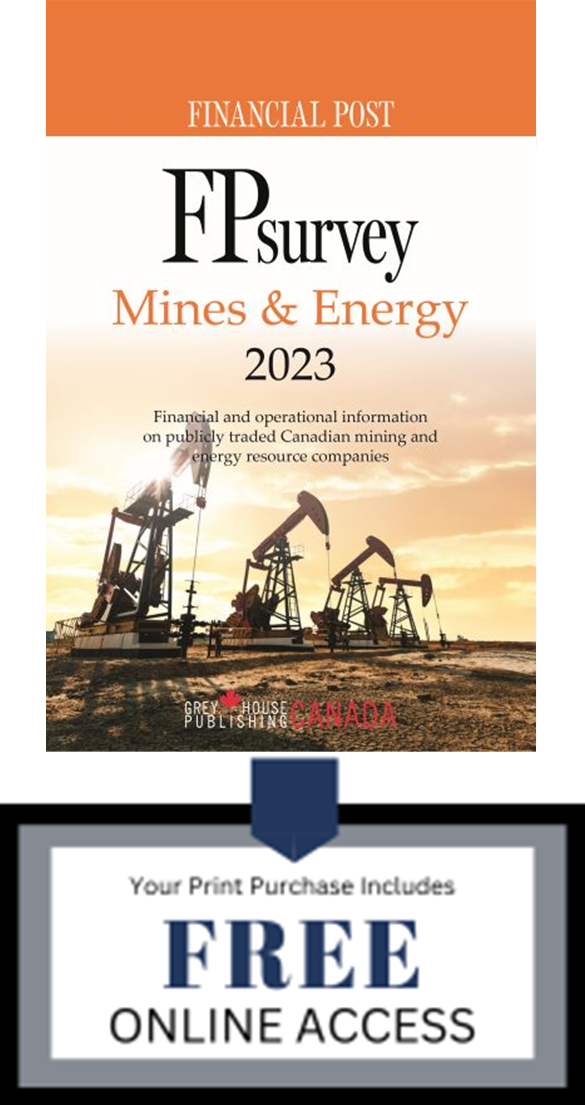 FP Survey - Mines & Energy, 2023
Grey House Publishing Canada
© September 2023
Softcover
ISBN: 978-1-63700-696-2
eISBN: 978-1-63700-697-9
Price: $340.00
Free Access to Online Database with Print Purchase
The Mines & Energy Survey provides access to detailed financial and operational information on publicly traded Canadian mining and energy resource companies.
This title provides investment details on companies involved in industrial minerals, oil and gas, electricity generation, and more. It continues to address the very real need of the private and corporate investor for a comprehensive securities manual.
The financial overview provides critical information on investment opportunities, including: companiesí key assets and operations; management and ownership; financial position; and highlights of events affecting the companies over the past year.
Additional features in this book and its companion publication, FPsurvey: Industrials, include The Year in Review, which provides a tabular summary of rights offerings and name changes, and a Top Ten by Industry section containing key financial ratios for top companies in the twenty-two Global Industry Classification Standard (GICS) Industry Groups.
---
GET FREE ONLINE ACCESS WITH YOUR PRINT PURCHASE
Business professionals get a single-user login to the 2023 edition, so you can put this wealth-building information to work for your portfolio immediately.
Library purchasers get a free single-seat license to the 2023 edition online, so their patrons can access this powerful database in the library and from home with remote access.
Try out a FREE 30-DAY ONLINE TRIAL!