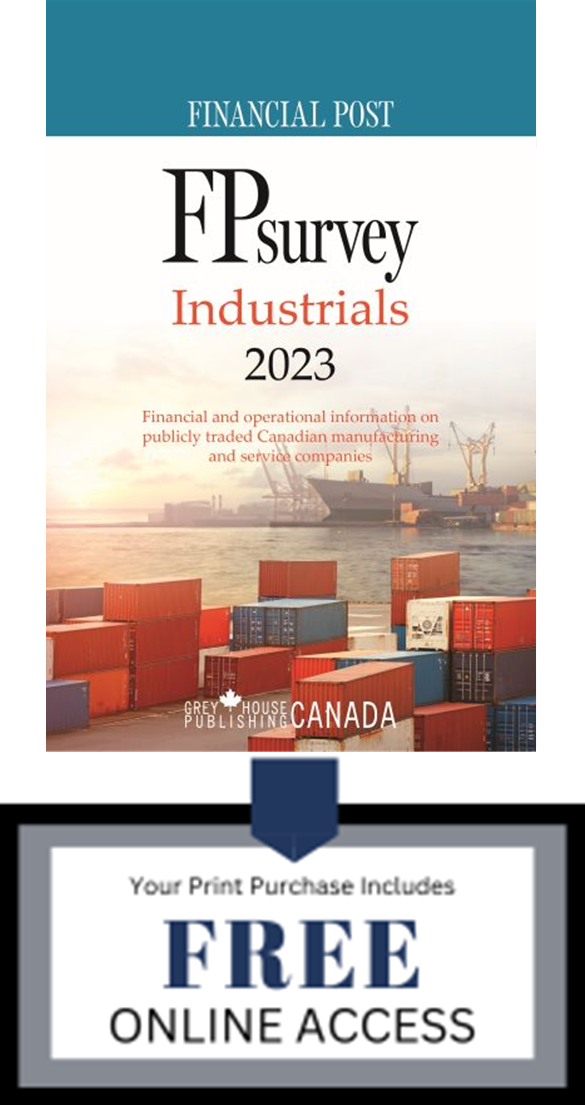 FP Survey - Industrials, 2023
Grey House Publishing Canada
© September 2023
Softcover
ISBN: 978-1-63700-694-8
eISBN: 978-1-63700-695-5
Price: $340.00
Free Access to Online Database with Print Purchase
FP Survey - Industrials contains investment information on more than 3,000 manufacturing and service companies in Canada.
Access to financial and operational information on publicly traded Canadian manufacturing and service companies with this detailed volume.
FPsurvey financially reviews companies involved in manufacturing, real estate development, forestry, investment holding, and financial management, as well as services industries such as communications, transportation, banking, retailing, and more. Industrials 2022 covers all industrial companies publicly traded and reporting in Canada.
Editors provide an overview of investment opportunities, including: companiesí key assets and operations; management and ownership; financial position; and highlights of events affecting the companies over the past year.
Together with its companion publication, FPsurvey: Mines & Energy, this book provides a wealth of information for both investment decisions and general interest purposes.
---
GET FREE ONLINE ACCESS WITH YOUR PRINT PURCHASE
Business professionals get a single-user login to the 2023 edition, so you can put this wealth-building information to work for your portfolio immediately.
Library purchasers get a free single-seat license to the 2023 edition online, so their patrons can access this powerful database in the library and from home with remote access.
Try out a FREE 30-DAY ONLINE TRIAL!