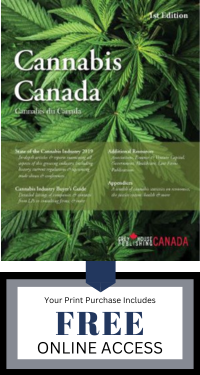 Cannabis Canada

Grey House Publishing Canada ©
May 2019
Softcover
ISBN: 978-1-64265-243-7
Ebook ISBN: 978-1-64265-244-4
Price: $224.00
Free Access to Online Database with Print Purchase
Cannabis Canada is a one-of-a-kind resource covering all aspects of this growing industry. Featuring in-depth directory listings and a wide-ranging collection of reports and statistics, you'll find everything you need to know about this now-legal marketplace, including need-to-know international information.
This first edition includes the State of the Cannabis Industry 2019, exploring the history of marijuana, current regulations, insightful reports, and listings of upcoming trade shows and conferences. Directory listings start with the brand new Cannabis Industry Buyer's Guide, featuring everything from Licensed Producers to consulting firms, equipment manufacturers to security firms, and more. All listings include specialized fields that go far beyond name and address, and boast crucial, current key contacts.
Additonal resources include:
Industry associations
Financial and venture capital firms
Government agencies
Healthcare and treatment facilities
Law firms
Publications
Rounding out the book are Appendices containing detailed statistics, and multiple Indexes to help you navigate this comprehensive body of work.
Reports in the State of the Cannabis Industry 2019 include "The Canadian Cannabis Story" by Echelon Wealth Partners. The full report can be found here: The Canadian Cannabis Story
---
The Cannabis Canada will also be available online on Canada's Information Resource Centre (CIRC). Thousands of companies and contacts are just a click away! Search by name or type of organization, subject, location, contact name or title and postal code. Export results and create mailing lists with this easy-to-use online database – an essential tool for researchers, students, marketing professionals and industry experts alike.