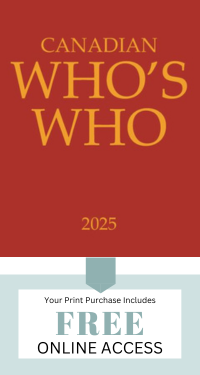 Canadian Who's Who 2023
December 2022
Hardcover
ISBN: 978-1-63700-324-4
1,400 pages
Price: $324.00

Free Online Database with print purchase
&nbsp&nbsp&nbsp&nbsp&nbsp-single user
&nbsp&nbsp&nbsp&nbsp&nbsp-access 10,000 current profiles,
&nbsp&nbsp&nbsp&nbsp&nbsp&nbsp plus an archive of over 13,500

&nbsp
Published since 1910, this work captures the lives and achievements of over 10,000 of today's Canadian notable professionals, including artists, politicians, public servants, academics, writers, doctors, philanthropists, business moguls, athletes, and more.
---
Canadian Who's Who is the only authoritative biographical publication of its kind in Canada, offering access to thousands of Canadian icons from all walks of life, including 2,211 Professors, 2,196 executives, 1,220 writers, 797 lawyers, 440 politicians, 393 artists, 406 scientists and researchers, 300 musicians, 123 athletes, 218 actors and more! This familiar bright-red volume is recognized as the standard reference source of contemporary Canadian biographies.
Documenting the achievement of Canadians from a wide variety of occupations and professions, Canadian Who's Who records the diversity of culture in Canada. These biographies are organized alphabetically and provide detailed information on the accomplishments of notable Canadians, from coast to coast.
Biographies provide important networking data for business-building and philanthropic outreach.
With the Free Online Database, you'll get easy access to specific professions, geographic areas, interests, and alma maters, making this a must-have biographical resource for all businesses, libraries, development offices and philanthropists in Canada.
Here is just some of the data you will have at your fingertips:
date and place of birth
family details
memberships
honours
awards
education
career information
creative works
languages
contact information
---
The Searchable Online Database has Monthly Updates so you will be able to access the most current data and focus your research by choosing broad or specific search queries. Search tens of thousands of entries and instantly download lists for mailing or further research. This is an indispensable tool for all your marketing or research needs!
If you would like to preview the database prior to purchase, please call (866) 433-4739 or email info@greyhouse.ca and we can set you up with an immediate trial.