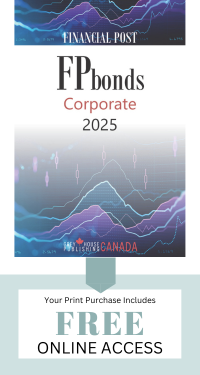 FP Bonds - Corporate, 2023
Grey House Publishing Canada
© June 2023
Softcover
ISBN: 978-1-63700-684-9
eISBN: 978-1-63700-685-6
Price: $210.00
Free Access to Online Database with Print Purchase
FP Bonds – Corporate 2023 features publicly and privately held debt securities, as well as debt issues and asset-backed securities from Canadian incorporated companies.
Designed for the professional and consumer executive is a gold mine of information on the bank market today. It provides outstanding information on publicly and privately held debt securities issued by Canadian incorporated companies, together with their features and provisions. Separate tables list convertible, exchangeable, retractable and extendible debt issues. An additional table lists outstanding asset-backed securities.
In addition, FPbonds: Corporate 2023 includes ratings supplied by Dominion Bond Rating Service (DBRS). The DBRS ratings, dated May 2023, are presented in two tables, in addition to being shown with each issue. The first table lists issues by rating, from lowest to highest. Generally, a DBRS rating of BBB is considered to be investment grade and anything below that could be considered as non-investment grade or high-yield debt. As well, unrated securities are also considered to be high-yield if its spread to a comparable Government of Canada issue is substantially higher than the spread between investment-grade corporate bonds and Government of Canada issues. A second table lists all rated issues by company.
This must-have edition also contains added front matter: a Bank of Canada report on how the COVID-19 pandemic has impacted Canada's largest public pension funds.
---
GET FREE ONLINE ACCESS WITH YOUR PRINT PURCHASE
Business professionals get a single-user login to the 2023 edition, so you can put this wealth-building information to work for your portfolio immediately.
Library purchasers get a free single-seat license to the 2023 edition online, so their patrons can access this powerful database in the library and from home with remote access.
Try out a FREE 30-DAY ONLINE TRIAL!