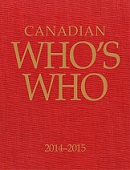 Canadian Who's Who 2017
décembre 2016
Hardcover
ISBN: 978-1-68217-212-4
1,400 pages
Prix: $299.00

"These lives, summed up in a few lines, recount history as it was and is being made."
-Roch Carrier, former National Librarian
Canadian Who's Who is the only authoritative publication of its kind in Canada, offering access to 12,600 notable Canadians in all walks of life. Published annually to provide current and accurate information, the familiar bright-red volume is recognised as the standard reference source of contemporary Canadian biography.
Documenting the achievement of Canadians from a wide variety of occupations and professions, Canadian Who's Who records the diversity of culture in Canada. These biographies are organized alphabetically and provide detailed information on the accomplishments of notable Canadians, from coast to coast. All who are interested in the achievements of Canada's most influential citizens and their significant contributions to the country and the world beyond should acquire this reference title.
Detailed entries give date and place of birth, education, family details, career information, memberships, creative works, honours, languages, and awards, together with full addresses. Included are outstanding Canadians from business, academia, politics, sports, the arts and sciences, etc.
Every year the publisher invites new individuals to complete questionnaires from which new biographies are compiled. The publisher also gives those already listed in earlier editions an opportunity to update their biographies. Those listed are selected because of the positions they hold in Canadian society, or because of the contributions they have made to Canada.